ANGELS LANDING
If you are looking for the most stunning hike in Zion National Park along a steep and exposed route that involves holding onto chains for protection, then you may have heard of the legendary Angels Landing Trail. Angels Landing is a unique fin-like mountain formation that juts out proudly in the center of Zion Canyon. Back in the 1920s, an ingenious trail was constructed that follows the narrow spine to the amazing viewpoint roughly 1500 feet above the canyon floor, but it is not recommended for anybody who has a fear of heights or has trouble with balance. This hike could be compared to Half Dome in Yosemite National Park; while Angels Landing is a much shorter hike, it is still a strenuous and arguably more intimidating route with non-stop fantastic views. This hike will take between 3-6 hours; your legs will burn, your knees may shake, and the view will take your breath away!
Important Points Before You Continue:
Angels Landing is an exposed hike along a narrow and precipitous rock formation. It is not recommended for small children or those with a fear of heights. Be polite, share the trail, and allow others to pass at safe spots.
Please practice your best "leave no trace" ethics on this hike. Do not carve or draw your name into the rock formations or stack rocks (decorative cairns) for fun. This activity is illegal and it ruins the scenery for other people.

ANGELS LANDING PERMITS:

Due to this hike being glamorized as one of the most thrilling "bucket list" hikes in the park, its popularity has multiplied exponentially to the point of the crowds becoming dangerous and unmanageable. As of April 2022, a permit system is now in place for Angels Landing. Apply for the seasonal lottery well in advance or the day-before lottery to hopefully win your chance to do this hike. Details can be found on the NPS Angels Landing Permits page.
Grotto Trailhead to Scout Lookout:
The hike to Angels Landing starts at the Grotto Trailhead, the 6th stop for the Zion Canyon Shuttle in Zion's main canyon. Cross the hiker's bridge over the Virgin River and follow the paved trail north and up the west side of the canyon. We are officially on the West Rim Trail right now and after roughly half a mile of mostly level hiking alongside the river, the trail starts its steep ascent out of the main canyon courtesy of several switchbacks. Eventually the trail makes its way into Refrigerator Canyon, a lovely narrow hanging canyon where temperatures always remain cool.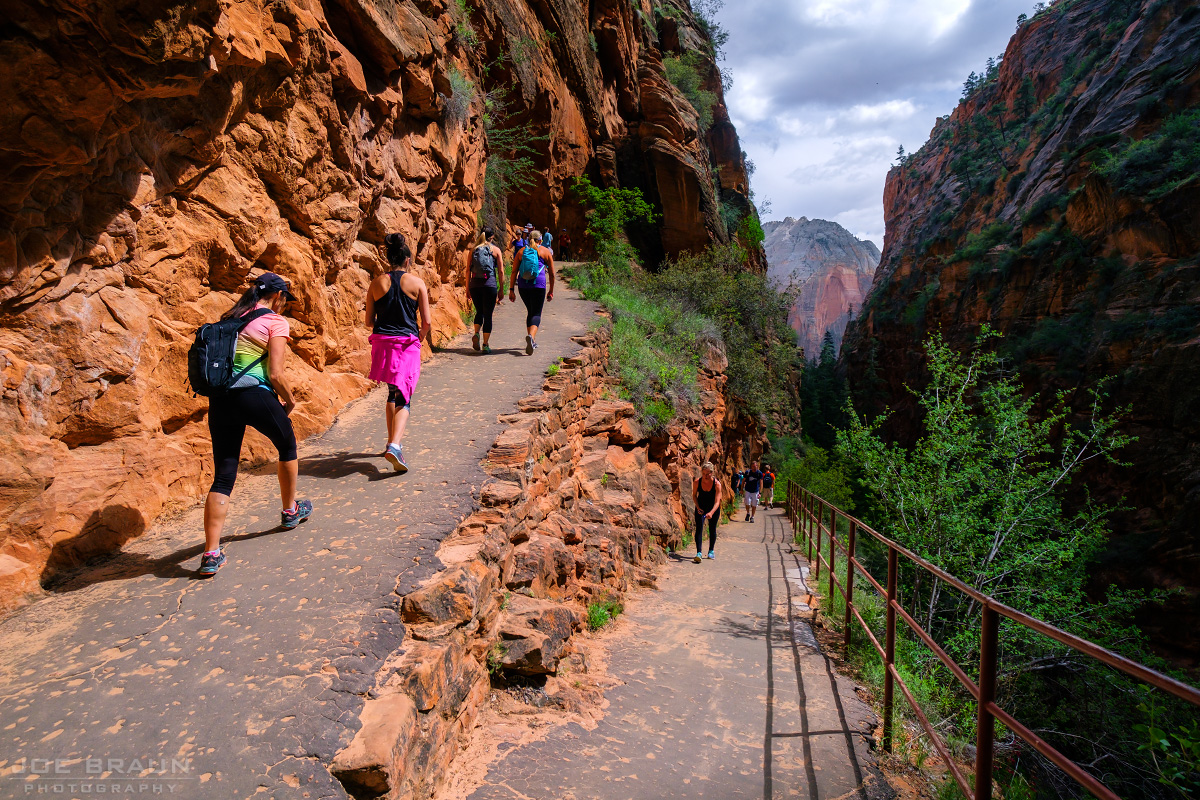 Just as you reach the mouth of Refrigerator Canyon, be sure to look behind you to take in the glorious view of Zion Canyon and see how much elevation you have already gained.
The trail continues up the narrow Refrigerator Canyon for roughly .4 miles until we reach an amazing bit of 1930's CCC engineering: Walter's Wiggles -- a set of steep switchbacks that allows the trail to climb to the top of the east ridge above Refrigerator Canyon. At the top of the switchbacks, the trail mellows out and we arrive at Scout Lookout -- a nice little viewpoint where we can get a good look at the backside of Angels Landing and Zion Canyon far below.
If you do not have a permit to hike the final section of Angels Landing or you aren't up for the exposed chains section, Scout Lookout is a wonderful destination in its own right. There are plenty of spots to sit and relax and soak up the views.
Angels Landing Trail Chains Section:
If you have a permit and you're up for the challenge, the final part of this hike is nothing but exhilarating. The clever Angels Landing Trail follows the narrow exposed spine of the mountain and climbs almost 500 more feet in elevation. There are many exposed sections where you can look down on both sides to the canyon below, including one spot I like to call the "Step of Faith." (See photos.)
Plenty of chains, guard-rails, and carved steps are provided to help ease the mind. There are also several areas suitable for resting if you want to step aside and catch your breath and let other people go by. If you have no mountain-climbing or exposed hiking experience, this hike can be quite intimidating. If you are overcome by panic at the first section of chains, do not continue any further. It doesn't get any better!
Roughly .3 miles from Scout Lookout, you will start to see the intimidating and steep final push to the top of Angels Landing right in front of you. It may look impossible or improbable, but the clever trail does in fact work its way up the contours and shelves of the mountain to the view top. After a fair amount of strenuous hiking and scrambling, you will finally top out on the summit and it will all be worth it. The views to the south and north are simply stunning! Even though Angels Landing is significantly lower in elevation than the rims, you get an amazing 360-degree view that rivals any other viewpoint you will experience. If you have any snacks, this is the perfect place to relax and partake. But don't let the aggressively friendly chipmunks steal your sandwich!
The Hike Back Down:
Once you have had your fill, return the way you came. The hike back down the steep, narrow spine may seem more intimidating since you can see the exposed landscape right in front of you and beneath you, but the hiking is definitely less strenuous and may be easier for most. Once you make your way back to Scout Lookout, pat yourself on the back for surviving one of Zion National Park's most thrilling hikes! While most people will simply visit Angels Landing and then hike right back down to the Grotto, if you still have more energy to burn, consider hiking further up the West Rim Trail a bit more; this less popular section of trail is still well worth the effort and offers up even more unique and amazing sandstone scenery. When you have had your fill, hike back down to the Grotto and celebrate!
EXPOSURE WARNING!
No description of Angels Landing would be complete without a stern warning about how strenuous and exposed this hike is. If you are out of shape and don't feel very balanced on your feet, or you have young children who like to run around out of control, this hike is NOT for you. Over the past few decades, a handful of people have fallen to their deaths on this hike. I would only consider taking an older child on this hike if they had plenty of hiking/scrambling experience under their belts and they are disciplined to not run around or leave your side. Take this hike seriously and do not become a casualty. Keep a cool head, take it slowly and carefully and be courteous to other hikers.
Dealing with Crowds:
Angels Landing is one of the most popular hikes in Zion National Park and as such, the trail and viewpoint can see hoards of people each day, especially on weekends and holidays in the summer months. When the trail is crowded to the point of reaching gridlock, the situation can even get dangerous. Please be courteous and patient and let other hikers pass at safe spots along the trail. With a permit system now in place to limit numbers similar to Yosemite's Half Dome system, hopefully much of this crowding can be mitigated.
Leave No Trace:
And with crowds comes the need to discuss "leave no trace" principles since bad behavior encourages copycats. Please pack out all of your trash and do not leave anything behind on the trail. Please do not carve your name or anything else into the sandstone formations. Also please do not build decorative cairns at the viewpoint. While this may seem like harmless entertainment, it ruins the nature experience for others and the National Park Service considers it to be (a mild form of) vandalism.
Hiking Seasons:
The Angels Landing trail is officially open all year long, but spring and fall have the most pleasant temperatures for this hike. Summer is the hottest and most popular season for the park, so be prepared to share the trail and sweat in the heat; an early morning start is preferable. Winter is the most unpredictible season for hiking Angels Landing; the trail could be completely clear or it could be riddled with ice and snow from recent precipitation. Check conditions at the Visitor Center and play it safe!
Photography Tips:
Many people ask when the best time is to photograph Angels Landing. That's a tough question to answer and is based on personal preference, but as is often the case, early morning and late afternoon will give you the most interesting light (with one side of the canyon cast in shadow), but be sure to get off the mountain well before dark. The middle of the afternoon on a clear day is probably the ugliest time for photography, but interesting or dramatic clouds can change everything.
Joe's Spin:
If you aren't intimidated by heights and you are in pretty good shape, this is one of the most unique hikes and viewpoints in the world! But due to its epic popularity over the past few years, it has become increasingly crowded to the point of being dangerous, especially on holiday weekends. Whether you are faster or slower than others hiking this route, please be courteous and safe on the trail since there is not very much room for error! And consider doing an alternative hike as Zion has more to offer than just Angels Landing or the Zion Narrows.